Landscaping design
We design beautiful and sustainable gardens to suit your specific needs. We use indigenous plants where possible and have great waterwise gardening strategies.
We are experts in natural and organic gardening techniques including permaculture so we are able to setup garden systems that work for you with minimal maintenance required. We aim to design you a garden that is healthy, happy and chemical free.
Safe for pets, children & everyone who enjoys a garden and of course our beautiful wildlife & birdlife,  who we hope will come and enjoy our gardens too.
We are always very happy to come and have a look at your garden and discuss your budget, what you need from your garden space. Contact us with any questions or if you'd like to arrange an appointment with a member of our team.
Our range of services include:
Project Management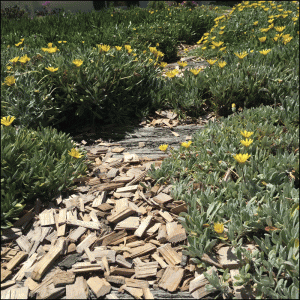 We can manage your home renovations for you, right from the beginning. We source quotes from various specialist, then schedule the installations to best suit everyone's needs.  We communicate projects with each contractor making sure realistic deadlines are met. We ensure a high quality of work is achieved from each specialist.
Irrigation Systems
Watering by hand can be extremely therapeutic, but the amount of water wasted just isn't worth the cost. We can install you a suitable system that irrigates your garden at the ideal times for optimal absorption. A fully automated system gives you the freedom to lock up and go whenever you please.
Retaining walls
We install a variety of retaining walls. Contact us to find out more.
Sustainable Gardens

Each garden's needs are different, so please invite us over to come and see how we can help you turn your garden into a sustainable one.
Instant lawns
Although lawns have picked up a bad reputation for being high water consumers, high maintenance and valuable space wasters, if you have children or animals, a lawn can add so much value to your life.
It is imperative that you know what you are dealing with – here are 3 main lawns that we can install for you.
Kikuyu lawn is the most popular lawn installed as it is a quick grower, very cost effective and readily available. This is the water consumer and maintenance can be high.
Berea (LM) Lawn – This lawn is fantastic. It grows in both sun and shade and it uses less water. If you have a small shady garden, this is the lawn you want.
Buffalo Lawn – The least thirsty of the lot. This lawn can tolerate semi-shade and requires the least maintenance. It is quite pricey, but really worth it. It is readily available from suppliers.